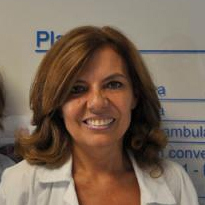 Digestive
Dra. Beatriz de Cuenca
Especialista en Digestivo.
Digestive
Formación
Bachelor of Medicine and Surgery performed at the Faculty of Medicine of the Complutense University of Madrid, with half marks: Notable high – outstanding
Specialty in Digestive Medicine Medicine by National Merit Contest and examination. Hospital "12 de Octubre". Madrid.
Course in Management Development in Health Institutions IV Edition. IESE 2009
Master's Degree in Management Skills 2014-2015
Actividad asistencial
Head of the Gastroenterology Unit at Infanta Cristina hospital in Madrid, Parla. Publication in the B.O.C.M, No. 269, November 12, 2007. Take Possession December 1, 2007.
Actividad docente y científica
Teaching Assistant of the Complutense University of Madrid since 2011.
Associate Professor at the Complutense University of Madrid since 2012.
Publication of more than 50 articles in national and international journals and presentation of more than 90 communications or posters in national and international congresses.
Editor and contributing author of the Abdominal Ultrasonography Treaty, Díaz de Santos Edition 2010.
Méritos y premios
Member of the Board of Directors of the Spanish Association of Digestive Pathology (AEED) as Vocal-Treasurer from 2004-2008. Deputy Secretary since 2009 – Secretary since 2010-2013. Member of the Scientific Commission of the AEED since 2014
Member of the Spanish Association of Liver Diseases (AEEH)
C/ Guzmán el Bueno, 72 – 28015 (Madrid)
Tf: (+34) 91 544 94 64 – (+34) 91 544 60 13
Working hours: Monday to Thursday
09:00 a 18:00